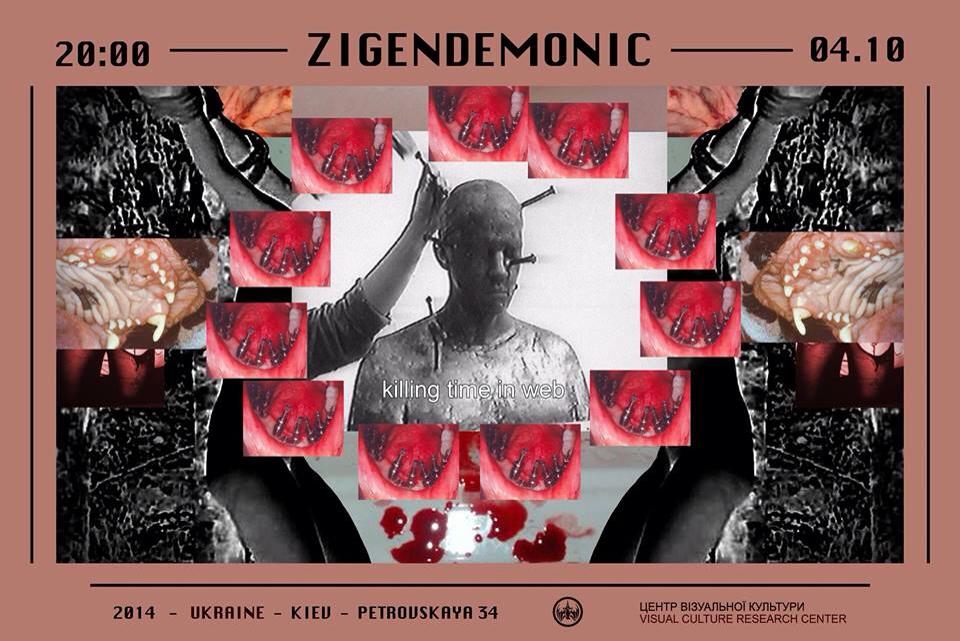 4th – 12th of October 2014
at Petrivska 30/34, Kyiv
Visual Culture Research Center presents
Killing Time in Web exhibition by Zigendemonic
"This work is about a state of mind that you experience when you are serfing internet way too long, about visual information overdose, about seeing hundreds, or even thousands of images everyday, which travel from real world to our consciousness. In moments of extreme fatigue, after another all day long internet blogs scrolling, you have very bright dreams. If dream deprivation exceeds normal borders – the flow of images appears, even if you close your eyes for a moment. This state is painful but at the same time beautiful. After some time you want to overburn yourself once more, to experience again those pseudo-hallucinations" – Zigendemonic.
«Killing Time in Web» is a hallucination and hypnosis at the same time. It's not just telling you about overdosing of visual images, it is designed to invoke this overdose, to infect with those hallucinations, to penetrate dreams. Overdosing is just a method, way of producing visions, which tells about something intimate but so familiar to everyone.
Soundtrack by Myztical
Exhibition works on demand October 4 – October 12
Address: Kyiv, Petrivska Str., 34.

zigendemonic.org
vcrc.org.ua
On September 23rd, Vasyl Cherepanyn, lecturer at the National University "Kyiv-Mohyla Academy" and head of Visual Culture Research Center and Ukrainian Political Critique, was attacked on Kontraktova Square in Kyiv, next to the university were he works.
A group of unknown men dressed in camouflage paramilitary uniforms attacked Vasyl Cherepanyn in broad daylight in a crowded square in central Kyiv. The police was late to the scene, and the attackers were not arrested. Vasyl Cherepanyn received heavy injuries, including fractures of facial bones. He links this incident to his professional activity.
Vasyl Cherepanyn, PhD of Theory of Art, is a lecturer at the Cultural Studies Department at the National Universilty "Kyiv-Mohyla Academy". He is the head of Visual Culture Research Center, and editor of the Political Critique magazine. He is an organizer of numerous scientific conferences, public discussions and art exhibitions. Among the latest events, co-organized by Vasyl Cherepanyn, are the conference Ukraine: Thinking Together, with the participation of Timothy Snyder, Ivan Krastev, Agnieszka Holland, Paul Bermann and other leading intellectuals, and also the series of events during the Open University at Maidan, where he was an activist.

While the military aggression is carried out against Ukraine, aggressive young men in military uniforms carried out an unprecedentedly violent attack on the university lecturer in the center of Kyiv. During the attack, the thugs were accusing Vasyl Cherepanyn of being 'separatist', which is totally absurd to anyone aware of his activities. These unfounded and absurd claims, along with accusations of being 'a communist', are more and more often used by aggressive ignorants who aim to impose their ideology of hatred upon Ukrainian society, and to suppress any manifestations of critical thought. We demand a quick investigation of this appalling attack. We also demand to investigate the activities of paramilitary groups that use the war in Ukraine as a pretext to justify their own misantropic views.
Visual Culture Research Center presents Island, an exhibition by Ivan Melnychuk and Oleksandr Burlaka and invites you to the opening on July 10, 7 p.m.
at Petrivska 30/34, Kyiv
Fictitious architect, convinced modernist, once a skilled head of one of the units of the Soviet State Designing institute, after the years of inactivity is working on a project of private hacienda that occupies Trukhanov Island – green recreational territory in the centre of Kyiv. Context is neglected, disordered scrap of land that waits for somebody who can afford to turn it into a gem.
This is a real utopia. It is possible here and now. Perturbed unenlightened public reminds a passer-by that looks inside the hospital window and gives advice to the operating surgeon. And your personal opinion is an error which does not affect the result, trifle that can be disregarded to make this fragile utopia true in our rude, chaotic world.
The exhibition is part of Visual Culture Research Center Unrendered Spaces project and is supported by ERSTE Foundation.
Ivan Melnychuk was born 1982 in Lutsk, Ukraine, currently lives and works in Kyiv, Ukraine. Architect, artist, member of Melnychuk-Burlaka group, Grupa predmetiv group, Art Workers' Self-defense Initiative. He specializes in documenting and studying of urban transformations.
Oleksandr Burlaka was born 1982 in Kyiv, Ukraine, where he currently lives and works. He graduated from Kyiv National University of Construction and Architecture in 2005 as a Master of architecture. Architect and artist; member of Grupa predmetiv group, Melnychuk-Burlaka group, interdisciplinary curatorial association Hudrada.
Ivan Melnychuk and Oleksandr Burlaka's practice is a critical reflection on how the architectural heritage and the urban context in the post-Soviet space are transformed in, and sometimes erased from, our collective memory. Trained as architects they question and study the role, ideology and responsibility of architects today.
Unrendered Spaces is an ongoing exhibition project, which includes a series of expositions dedicated to the strategies of perception of environment inside and outside the city, the possibilities of its exploration by the means of art. Concentrated on the points of perceptive conflict, multiple interpretations of the living space, the project aims at playing out the political, social, aesthetic zones of tension by redefining it.
Visual Culture Research Center is a platform for collaboration of artists, activists and academics founded in Kyiv-Mohyla Academy in 2008. Since its inception VCRC had organized over 150 debates, conferences and research seminars, nearly 20 exhibitions and a series of street protest actions.
Opening hours: July 10 – July 24, Tuesday to Sunday, 3 p.m. – 7 p.m. 
Address: Kyiv, 34, Petrivska St.
STOP CENSORSHIP! 2nd International Contest is launched
2nd International contest "Stop censorship! Citizens for free countries" accept works till the beginning of May, 2014. This year contest theme is – "Fight – You'll Win!".
The idea of ​​contest creating came at the meeting of activists and journalists movement "Stop Censorship!" in June 2010. In 2011 First International Contest "Stop Censorship" took place. It was submitted with 27 posters, 310 slogans, 188 poems and 69 esseys. Contest web site was visited by 46 thousands visitors from 83 countries.
In 2014, activists of the NGO "Center UA» decided to hold the contest annually.
Works for the contest are accepted in five categories: image, poem, slogan, essey, other formats. Works can be submitted in Ukrainian, Russian and English.
Anyone can participate the contest reardless of age, education and citizenship. Not a single political party is related to the contest organization. This contest is a tool for self organization of civil society. It's main go is to initiate a broad social discussion on protection of freedom of speech, political and artistic censorship.
Contest geography is global as protection of human rights, freedom of access to information and fight against censorship are the fundamental freedoms and it's relevant to Ukraine as well as for any young democratic country.
Submissions will be accepted from May 1 to June 5, 2014 (inclusive). Work of public jury begins May 1, 2014 and ends June 10. That means that after submission deadline internet users would be able to vote during five extra days. According to the public voting results in each category (image, poem, slogan, essay, other formats)the winner is the work with the highest number of votes.
In June 11, 2014 meeting of jury of expers will take place where the winners would be announced. In awarding ceremony for the winners, as well as exhibition of the best works in one of the public spaces in Kiev will hold in June 24, 2014. Public campaign, which aims to promote works of the winners of the contest begins right after completion of the contest.
http://www.stop-censorship.net/eng/
Facebook
Contacs: cenzuri.stop@gmail.com,
0 50 494 58 30
Ukraine: Thinking Together
Kyiv, 15-19 May
Manifesto
This is an encounter between those who care about freedom and a country where freedom is dearly won. This year Ukraine has seen protests, revolution, and a counter-revolution from abroad. When millions of people gathered to press for the rule of law and closer ties to Europe, the Yanukovych regime answered with violence. Vladimir Putin offered the Ukrainian government money to clear the streets and join Russia in a Eurasian project. Yanukovych criminalized civil society, which only broadened the protests. Then the police began to kill the protestors in large numbers. This brought revolution, a shift of political power to parliament, and the promise of free elections. Russian authorities reacted by invading Crimea, sending provocateurs into eastern Ukraine, threatening to dismember the country, and suppressing Russian civil society. Ukraine today, like Czechoslovakia in 1938, is a pluralist society amidst authoritarian regimes, a fascinating and troubled country poorly understood by its neighbors. It is also home to an extraordinary tradition of civil society, and to gifted writers, thinkers, and artists, many of whom, reflecting on the Maidan, have raised in new ways fundamental questions about political representation and the role of ideas in politics.
In the middle of May, an international group of intellectuals will come to Kyiv to demonstrate solidarity, meet their Ukrainian counterparts, and carry out a broad public discussion about the meaning of Ukrainian pluralism for the future of Europe, Russia, and the world. The Maidan and reactions to it, in Ukraine and abroad, raise classical and contemporary questions of politics and ethics. How can human rights be grounded and how are we motivated by the idea of human rights? How and when does language provide access to the universal, and how and when does it define political difference? Are some experiences so intense that they alter the character of intellectual exchange as such? How is decency in politics possible amidst international anarchy, domestic corruption, and the general fallibility of individuals? Does revolution renew Europe and revive political thought or can revolution, like everything else, be consumed by the clichés and abstractions of globalization? What does the revival of geopolitics mean for the world order? Is the Maidan an eruption of youth or an expression of history? Does its memory bring Ukrainians closer to European preoccupations, or introduce constellations that confound myths? These will be the subjects of our seven panels, in all of which international and local intellectuals will meet. The discussions will take place in Ukrainian, Russian, German, Polish, French, and English, and in all panels at least one person, including those traveling from the west, will be speaking a language that is not his or her own mother tongue. In this way we hope to express our respect for language as such, and to demonstrate, in a small way, solidarity to Ukrainiansand others who speak multiple languages. In expressing ourselves in other languages we also stress that the universal themes require a special sort of work from all of us, a labor that we hope will be rewarded by understanding and friendship.
Program
Thursday May 15
5:00pm Public Lecture by Timothy Snyder
Not Even Past: Ukrainian Histories, Russian Politics, European Futures
Site: Congregation Hall, Old University Building, Kyiv Mohyla Academy
Friday May 16
12:00 Press conference
Timothy Snyder, Leon Wieseltier, international guests
Site: Hotel Ukraina, Media Crisis Center
5:45pm Public Lecture by Bernard-Henri Lévy
La résistible ascension d'Arturo Poutine
In French with simultaneous translation to Ukrainian
Site: Congregation Hall, Old University Building, Kyiv Mohyla Academy
Saturday May 17
9:00am Opening remarks by Leon Wieseltier and Timothy Snyder
Site: Diplomatic Academy
9:30am Panel One
Do rights make us human?
Language: Russian, with simultaneous interpretation into English.
Site: Diplomatic Academy
Participants: Ivan Krastev, chair, Viktor Erofeyev, Sergei Lukashevsky, Myroslav
Marynovych, Alexander Podrabinek, Ihor Shchupak, Josef Zissels.
1:30pm Panel Two
How did the Maidan change culture?
Language: Ukrainian, with simultaneous interpretation into English.
Site: Diplomatic Academy
Participants: George Grabowicz, brief introduction, Ola Hnatiuk, chair, Vasyl Cherepanyn, Oksana Forostyna, Alexander Roitburd, Konstantin Skorkin, Olena Styazhkina, Serhiy Zhadan.
3:00 Coffee break
4:00pm Panel Three
When do politicians become pariahs?
Language: German, with simultaneous interpretation into Ukrainian and English.
Site: Diplomatic Academy
Participants: Daniel Markovits, chair, Wolf Biermann, Timothy Garton Ash, Jurko Prochasko, Mykhailo Minakov, Karl Schlögel, Karel Schwarzenberg.
5:30pm Public lecture by Ivan Krastev
The Global Politics of Protest
Site: Congregation Hall, Old University Building, Kyiv Mohyla Academy
7:00pm Public lecture by Timothy Garton Ash
From Lisbon to Kyiv?
Forty Years of Non-Violent European Struggles for Freedom
Site: Congregation Hall, Old University Building, Kyiv Mohyla Academy

Sunday May 18
9:30am Panel Four
Does Europe need Ukrainian revolution?
Language: French, with simultaneous interpretation into Ukrainian and English.
Site: Diplomatic Academy
Participants: Konstantin Sigov, chair, Carmen Claudin, Bernard Kouchner, Bernard-Henri Lévy, Volodymyr Yermolenko.
11:30am Public lecture by Slavenka Drakulić
Intellectuals as Bad Guys?
The Role of Intellectuals in the Balkan Wars
Site: Center for Polish and European Studies, Building 6, Kyiv Mohyla Academy
1:30pm Panel Five
Geopolitics after Crimea: Realism, Idealism, Eurasianism
Language: English, with simultaneous interpretation into Ukrainian.
Site: Diplomatic Academy
Participants: Leon Wieseltier, chair, Paul Berman, Carl Gershman, François Heisbourg, Volodymyr Kulyk, Anton Shekhovtsov, Tatiana Zhurzhenko.
3:00pm Coffee break
4:00pm Panel Six
Has totalitarianism returned to political thought and practice?
Language: Polish, with simultaneous interpretation into Ukrainian and English.
Site: Diplomatic Academy
Participants: Aleksander Smolar, chair, Agnieszka Holland, Adam Michnik, Mykola Riabchuk, Marci Shore, Sławomir Sierakowski, Andrzej Waśkiewicz.
6:30pm Public lecture by Paul Berman
Alexis de Tocqueville and the Idea of Democracy
Site: Congregation Hall, Old University Building, Kyiv Mohyla Academy
Monday 19 May
9:30am Panel Seven
Can memory save us from history? Can history save us from memory?
Language: English, with simultaneous interpretation into Ukrainian
Site: Diplomatic Academy
Participants: Timothy Snyder, chair, Slavenka Drakulić, Olga Filippova, Frank Foer, Yaroslav Hrytsak, Nikolay Koposov, Martin Šimečka, Andrey Kurkov.

11:00am Closing remarks by Timothy Snyder. End of public events.
12:00 Press conference
Hotel Ukraina
Locations:
The Kyiv-Mohyla Academy is located in the Podil' neighborhood, on Kontraktova Square; the entrance to the Center for Polish and European Studies is on Voloska Street 8/5. The Diplomatic Academy is in central Kyiv, at 2 Velyka Zhytomyrska Street. The Hotel Ukraine is on 4 Instytutska Street. The InterContinental Hotel is on 2A Velyka Zhytomyrs'ka Street.
Practical solidarity:
This gathering was the initiative of Leon Wieseltier of The New Republic and Timothy Snyder of Yale University and was made possible by the willingness of colleagues to heed their call and agree to participate in great haste, and by the creativity and hard work of Tatiana Zhurzhenko and Oksana Forostyna. A number of partner institutions helped transform an idea into an event: the Batory Foundation, the Embassy of Canada, the Embassy of France, the Embassy of the Federal Republic of Germany, the Embassy of the Republic of Poland, the Embassy of the United States of America, the European Endowment for Democracy, the Network of European Cultural Journals Eurozine, the Goethe-Institut, the Institut Français d'Ukraine, the Institute for Human Sciences (IWM), the International Renaissance Foundation, the Ukrainian cultural journal Krytyka, the National University "Kyiv Mohyla Academy," the Ministry of Culture of Ukraine, the Ministry of Foreign Affairs of Ukraine, the National Endowment for Democracy, The New Republic, the Open Ukraine Foundation, the PinchukArtCentre, the Ukrainian Institute for Holocaust Studies "Tkuma," the Ukrainian Jewish Encounter, and the Visual Culture Research Center.
25 April – 14 May 2014
Visual Culture Research Center invites to the opening of Shelter exhibition by Mykola Ridnyi, which will take place on Friday, 25th of April at 19:00
in Kyiv, Petrivska Str. 34.

For the last few weeks bomb shelter location plans have appeared on the announcement boards of government institutions in Kyiv. What seemed to be almost an archeological layer of city architecture has suddenly regained its relevance. The menace of the state of exception, the fear of war, the feeling of uncontrollability of (geo)political processes have turned the city out of the space of possibilities and public interaction into a network of potential refuges. Collective enthusiasm of Maidan now gives way to the search of private safety enclaves and individual retreat.
Through the urban phenomenon of shelter – from bomb shelters and Cold War period bunkers to improvised refuges induced by fear of economic and political cataclysm, Mykola Ridnyi looks into the place and the fate of an individual at the crossroads of global processes. Political and social imaginary of today's man, collective fears and phobias, but also individual inventiveness in solving systemic problems, are in the zone of artistic research by Ridnyi.
The exhibition is part of Visual Culture Research Center project Unrendered Spaces  and is supported by ERSTE Foundation.
Opening hours: 26 April – 14 May, Tuesday to Sunday, 12:00 – 19:00.
Address: Kyiv, Petrivska Str., 34.
Mykola Ridnyi was born in 1985 in Kharkiv, where he currently lives and works. Graduated from Kharkiv State Academy of Design and Arts. Since 2005 cofounder and curator of SOSka gallery and laboratory, a space organized by artists for developing the cultural milieu in Kharkiv.
Through video, sculpture and installation Mykola Ridnyi carries out his critical reflection on the social and political context of post-Soviet space. His artistic messages are often developed from combining documentary films with traditional figurative sculpture or found objects.

Unrendered Spaces is a series of exhibitions dedicated to the strategies of perception of the urban and non-urban environment, the possibilities of its exploration by the means of art. Focused on the points of perceptive multiplicity of interpreting the living space, the project aims to play out the political, social and aesthetic zones of tension in its redefinition.
Visual Culture Research Center was founded in 2008 in order to create an interdisciplinary environment for the analysis of Ukraine's post-Soviet condition in terms of art, knowledge and politics. Since then, VCRC has organized over 150 research and discussion events engaging Ukrainian and foreign scholars, and about 20 art exhibitions.
During last months the Ukrainians on all squares were struggling for establishing democracy in their country. The protest called Maidan faced unprecedented police violence, repressions and terror organized by the state apparatus of Ukraine. The protesters were beaten, abducted, tortured, hundreds of them were killed by the special police forces, criminals and snipers. Millions of the Ukrainians raised against the corrupted oligarchic bloody regime of Yanukovych, which was supported by the Kremlin, and they won.
This genuine emancipative peoples' uprising was fundamentally European – the very idea of Europe was reclaimed on Maidan. Demos of Ukraine were fighting against neo-feudal oligarchy and proved to the whole world that the real democracy is alive today. New Europe was born on Maidan – Europe of solidarity, dignity, self-organization and freedom.
On the 1st of March 2014 the Russian authorities officially declared an armed invasion onto the Ukrainian territory. During last days the Russian troops intervened into the Crimea, blocking the airports, media, administrative buildings, settlements of the Ukrainian army and borders of Ukraine. We are observing now an armed counter-revolution as an answer to the Ukrainian democratic revolution, the Russian putsch conducted by the fascist Putin's regime on the international scale.
We demand from the Russian authorities to stop the armed invasion into Ukraine and to withdraw the Russian troops from its territory! The right to define the future destiny of Ukraine belongs to its citizens!
Vasyl Cherepanyn – director of the Visual Culture Research Center (Kiev, Ukraine), editor-in-chief of Ukrainian Political Critique magazine.
P.S. Please spread this appeal as much as possible.