June, 29 – July, 27, 2012
Opening – June, 29, Friday, 19:00
Visual Culture Research Center (26 Kostyantynivska St., "Zhovten" Cinema)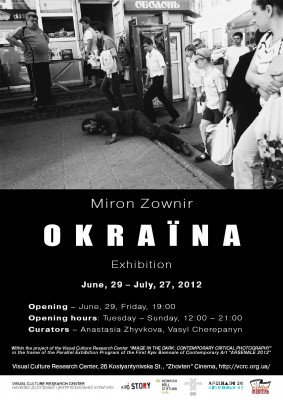 Having visited his historical homeland Ukraine in summer 2011 famous German photographer Miron Zownir began to work on a new photo series. Exactly one year later, when attention of the whole Europe is focused on Ukraine and Poland, Zownir represents his newest photo-project from Kyiv, Lodz, Moscow and Warsaw called «Okraїna» in the Visual Culture Research Center. Life of urban outcasts in these cities has its own laws. The boundaries that define their everyday life, outlined by poverty and social exclusion, are not less firm and restrictive than the geographical ones. East-European space is characterized by unanimity determined by invisible, unwanted fringes – citizens of outskirts. «Okraїna» by Miron Zownir is an aesthetic paradigm. It combines dark expressionism, urban landscape and iconic images of outcasts of the 21century.
Miron Zownir is a photographer, filmmaker, author of criminal novels, professor at the Academy of Film and Television in Berlin. His photo-books are published in one of the best art-publishing houses Gestalten, his works are exhibited in the most influential galleries alongside such stars as Nobuyoshi Araki, Nan Goldin, Robert Mapplethorpe, Weegee, having influenced with their documentary value the whole generation of young artists. Zownir lived in Berlin, London, New York, Los Angeles, and managed to capture counterculture punk energy of the 1980-2000's. Heroes of his uncompromising works are homeless, outsiders, intellectuals, the main themes – man lost in the modern city, loneliness, affect, fear, deviation, sexuality. As a filmmaker since 1986 Zownir created 10 short films, worked with directors such as Alexander Rockwell, Ryu Murakami and Chosei Funahara, as well as one full-length film that in 2003 participated in Berlin Film Festival program.
In June 2011 Visual Culture Research Center presented Zownir's retrospective, which included photographs from 1980-2000's, along with a series of short films. «Prostory» magazine published a selection of his photographs and texts.
Curators – Anastasia Zhyvkova, Vasyl Cherepanyn
Opening hours: Tuesday – Sunday, 12:00 – 21:00
Contacts: Anastasia Zhyvkova +38 093 477 72 72, tasyona@gmail.com; Vasyl Cherepanyn +38 050 445 76 08, cherepanyn@gmail.com
Within the project of the Visual Culture Research Center "IMAGE IN THE DARK: CONTEMPORARY CRITICAL PHOTOGRAPHY" in the frame of the Parallel Exhibition Program of the First Kyiv Biennale of Contemporary Art "ARSENALE 2012"