Erich Lessing's photographs from Post-World War II Europe EXPANDED
May 26 – June 23
Opening of the exhibition: Saturday, May 26, 2012, 7 pm
Visual Culture Research Center
26 Kostyantynivska St., "Zhovten" Cinema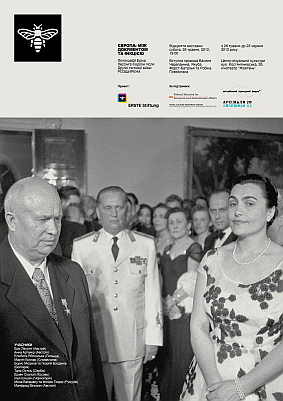 The basis for the project is the photography of Erich Lessing, one of Austria's most renowned photographers and a member of the prestigious photo agency Magnum Photos, who has chronicled the world and interpreted its people, events, issues and personalities. The researches and documents the culture of Central and South Eastern Europe, thereby promoting knowledge and understanding of that region. The curators Marina Gržinić and Walter Seidl were invited to select artists from the respective countries who would react to Lessing's photographs and create parallel histories, histories which conceptually reflect the social, political and historical changes in the region with and through the medium of photography.
ARTISTS
Erich Lessing (A)
Anna Artaker (A)
Elżbieta Jabłońska (PL)
Šejla Kamerić (BiH)
Martin Kollár (SK)
Boris Missirkov & Georgi Bogdanov (BG)
Tanja Ostojić (SRB)
Erzen Shkololli (KOS)
Ilija Šoškić (MNE)
Mona Vatamanu & Florin Tudor (RO)
Manfred Willmann (A)
Curators: Marina Gržinić and Walter Seidl
A project by Erste Foundation, Vienna, supported by the Austrian Federal Ministry for European and International Affairs and the Austrian Cultural Forum Kyiv
Opening speeches by Vasyl Cherepanyn, Jakub Forst-Battaglia and Robin Gosejohann
Exhibition: May 26, 2012 to June 23, 2012
A comprehensive catalogue of the exhibition will be available with essays by Rozalinda Borcilă, Cristian Nae, Marina Gržinić and Walter Seidl.
Within the exhibition project of the Visual Culture Research Center "Image in the Dark: Contemporary Critical Photography" in the frame of the Parallel Exhibition Program of the First Kyiv Biennale of Contemporary Art "ARSENALE 2012"