On Tuesday, June 12, 2012 at 18:00 in the Small Gallery of Mystetskyi Arsenal (10 Lavrska St.), a series of cultural and educational events of the Visual Culture Research Center "Freedom of Expression, Expression of Freedom" starts within the special project "Double Game" of the First Kyiv International Biennale of Contemporary Art "ARSENALE 2012".
Program's first event features Keti Chukhrov, Russian philosopher and poet who will present her performance "Afghan"-Kuzminki". Human Oratorio. The performance will be followed by a discussion with participation of the gender theorist Olga Plakhotnik.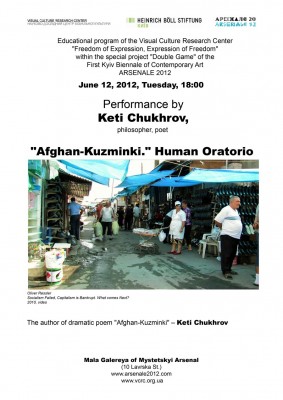 "Afghan"-Kuzminki", which is the name of a consumer goods marketplace in Moscow, is a poetic oratorio about present gender, sexual and economic politics. Performed by the author in the manner of melodeclamation and accompanied with her own music, the social and political poem raises urgent issues of patriarchal and capitalist relations in modern Russia. These relations are determined by gender inequality, fixation of sexual identity and its key role in dominant market conditions, as well as by merchandising and commodity value of the feminine body. Scenes of merchants' lives in the marketplace discursively demonstrate models of exploitation and patriarchal violence now encountered by majority of post-Soviet people.
Keti Chukhrov's performance follows conceptually a feminist program of "Woman's Workshop" art association, the conference "Feminism: Assemblage Point", and presentation of the third issue of "Political Critique" under the title "Sex and Politics".
Musical accompaniment is the classical music of G. F. Handel, J.-F. Rameau, and G. Dowland.
Keti Chukhrov is a philosopher and poet, she teaches at the History of Art Faculty of the Russian State University for the Humanities (Moscow, Russia). She is an editorial board member of "The Art Magazine" and the author of books and collectors of poems "To Be and To Perform. The Project of Theatre in Philosophical Art Critique","War of Quantities", "Just People".
Olha Plakhotnik is a gender and feminist theorist, Karazin Kharkiv National University.
Moderator of the discussion is Yelyzaveta Babenko, cultural theorist, activist of the Visual Culture Research Centre and Feminist Ofenzyva.
More about the project: http://www.artukraine.com.ua/articles/870.html
Partners: The First Kyiv International Biennale of Contemporary Art "ARSENALE 2012", Heinrich Böll Foundation.
Detailed information available at the following websites: http://vcrc.org.ua/en,  http://arsenale2012.com/program/special/, http://ofenzyva.wordpress.com
Contact: Yelyzaveta Babenko +38 093 021 17 53, liza.babenko@gmail.com