A premiere screening of Artur Żmijewski's November 11  film series on Friday, December 28th, 19.30 at Visual Culture Research Center (Zhovten Cinema, "Classic" hall, 26, Kostyantynivska St.).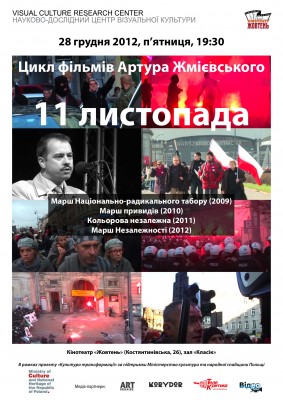 Every year Artur Żmijewski films street manifestations in Warsaw on Independence Day, the 11th of November. In recent years this celebration in Warsaw was marked by radical right marches leading to mass riots, clashes with the police, hate campaigns in the media, as well as big anti-fascist counter-actions. In his series of films, Żmijewski traces the evolution of the street confrontation for the last four years: radical nationalists' march in 2009; attempts of blocking the far right march in 2010 and 2011; many thousand strong March of Independence on November 11, 2012 ending up with the foundation of the radical right "National Movement", which defined its goal as to "overthrow the republic" in Poland.
November 11 series of films makes an ending to Artur Żmijewski's long-term project Democracies exposed at the exhibition of the same name in Kyiv at the VCRC in October 2012. Democracies project consists of nearly 30 nonfiction films documenting political events and actions all around the globe. In December 2012 Żmijewski announced the end of his work on the project.
Artur Żmijewski – director, curator, writer. He participated in 51. Venice Biennale (2005), Manifesta (2004) and Documenta (2007). In 2012, he curated the 7. Berlin Biennale. In his films Zmijewski studies the current social antagonisms, problems of political representation and collective imaginaries. Zmijewski is an artistic editor of Political Critique magazine.
Program of screening:
National Radical Camp March (2009)
The Ghosts March (2010)
The Rainbow Independent (2011)
Independence March (2012)
28.12.2012, 19.30, Zhovten Cinema, "Classic" hall, 26, Kostyantynivska St.
This screening takes place within Culture of Transformation project, supported by the Ministry of Culture and National Heritage of Poland.
Project partners:
Zhovten Cinema, Polish Institute in Kyiv

Media partners:
ARTUkraine, Korydor, TeleKrytyka, VideoTeKa