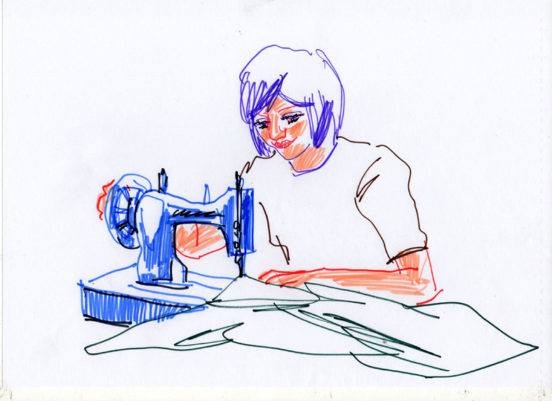 Saturday, 18 March 2017, 16:00
Female Handwork is a series of short lectures, in which the speakers will present sociological and historical aspects of female labour in mass textile production, as well as in creative individual work.
Sociologist Oksana Dutchak will present her research "Brand Clothes Made in Ukraine: Pay and Labour Conditions for Female Clothing Factories Workers."
Historian Olha Martynyuk will talk about the tragedy at "Chernihiv Wool" enterprise and how its workers were assigned a liquidator status, in her contribution "1986 Radioactive Wool Sorters."
Curator and gender researcher from Minsk Iryna Solomatina will tell the story of the recently unknown Belorussian folk artist with an unusual talent and biography: "'Dyvany-Malyavanki' by a Belorussian Artist Alyona Kish (1896(?)–1949): Between the Oblivion and Recognition."
An artist Anna Sorokovaya in her presentation "Military Handicraft" will share the stories about different forms of textile handwork during the World War I and II, as well as in the present time.
The event will take place within the framework of the exhibition TEXTUS. Embroidery, Textile, Feminism.
Admission is free
Organizer: Visual Culture Research Center
Supported by: ERSTE Stiftung and Charles Stewart Mott Foundation