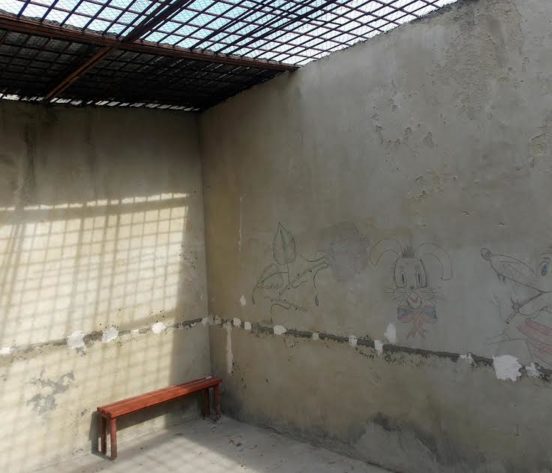 26 June – 9 July 2017
The opening will take place on the International Day in Support of Victims of Torture, June 26, at 19:00.
The exhibition will include documentary photography, video, and audio recordings, made by public monitors from National Preventive Mechanism and Ombudsman Office workers during their short-notice visits to custodial settings.
Restrictions of freedom are often used by the state as an instrument for punishment, rehabilitation, treatment, and care. The classified sites are not only colonies, detention centers, and prisons are, but also orphanages, certain medical facilities, military units, retirement homes, and even airport transit zones. The inequality between the mentors and the mentees seems natural to those who are on this side of the wall. We know almost nothing about the life "there," as the detainees, who choose to complain about their living conditions, or about the way the penitentiary system workers treat them, can be punished even more severely.
In 1987, the Ukrainian SSR ratified the Convention against Torture and Other Cruel, Inhuman or Degrading Treatment or Punishment. In 2002 it was complemented by Optional Protocol, which required the establishment of a national preventive mechanism (NPM). Its key point was the introduction of regular systematic visits of custodial facilities by NPM monitors, to be carried out at short notice, presuming the right to document the observed. Hence, by being mandated to visit custodial settings, the NPM monitors mediate between lives "on this and the other side."
Curators: Ruslana Koziienko, Natalka Neshevets
Design by Oksana Briukhovetska
The exhibition is open: Tue–Sun, 13:00–20:00. Monday – closed.
Discussions, lectures, and screenings will take place within the project. The program will be announced further.
On the 26th of June, at 14:00 the results of custodial settings monitoring in Ukraine will be presented at Visual Culture Research Center. The discussion about the situation with torture at such places will follow with participation of Kateryna Chumak (Head of NPM department at the Ombudsman Office), Maryna Homenyuk (NPM monitor, program coordinator at "Ukraine without Torture" NGO), Tetyana Pechonyk (NPM monitor, Head of Human Rights Information Centre board), Yevhen Levantsov (member of NPM department team at the Ombudsman Office).
Admission is free
Supported by: International Rennaissance Foundation within Human Rights and Justice program
ERSTE Stiftung and Charles Stewart Mott Foundation
Ukrainian Parliament Commissioner for Human Rights
Organizers: Human Rights Information Centre, Expert Center for Human Rights, National Preventive Mechanism, and Visual Culture Research Center


Media partners: