("Prayer for Hetman Mazepa" by Yuri Illienko)
Lecture of Dr. Sander Brouwer,professor at the University of Groningen,The Netherlands
May 25, 2012, Friday, 11:00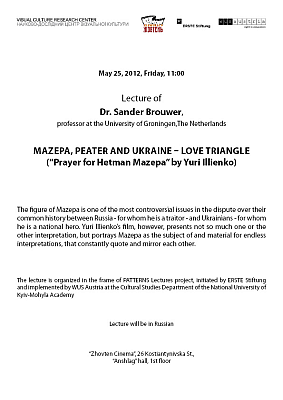 The figure of Mazepa is one of the most controversial issues in the dispute over their common history between Russia – for whom he is a traitor – and Ukrainians – for whom he is a national hero. Yuri Illienko's film, however, presents not so much one or the other interpretation, but portrays Mazepa as the subject of and material for endless interpretations, that constantly quote and mirror each other.
The lecture is organized in the frame of PATTERNS Lectures project, initiated by ERSTE Stiftung and implemented by WUS Austria at the Cultural Studies Department of the National University of Kyiv-Mohyla Academy.
Lecture will be in Russian.
"Zhоvten Cinema", 26 Kostiantynivska St., "Anshlag" hall, 1st floor